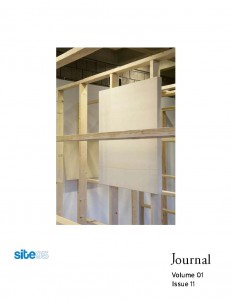 Read the Journal: site95_Journal 01_11e

Contributors: Lisa Williamson, Trombly Rodriguez, Nicole Lenzi, Jennifer Williams, Bradford Robotham, Jill Daves, Colette Robbins, Erickson Lassiter, Stacy Gibboni, Leah Beeferman, Matthew Harvey, and Emmy Thelander
From the Editor: The core of the site95 mission is to directly engage with a space (physical or virtual) in order to foster artists to push their own boundaries in creating new work. Within these variable perameters new ideas and concepts are widely developed and brought to fruition. This issue in particular is dedicated to site specificity as it juxtaposes work that, regardless if it is spontaneous or pre-planned, considers the space while creating the installation and objects inside.
"The Fabric of a Space" was designed by Trombly Rodriguez specifically for the lobby gallery of the Abrons Arts Space in the Lower East Side. As the installation curved congruently with the room, the gridded structure signals us to question not only how objects are made but the spaces themselves that they are presented in.
Lisa Williamson's interview gives insight on her strategies in preparing for a space while working alone or collaborating with others. The three artist projects created for this Journal by Trombly Rodriguez, Nicole Lenzi, and Jennifer Williams create a unique link to Emmy Thelander's interview with Parallelogram designers Leah Beeferman and Matthew Harvey as artists consider creating intangible work for a cybercommunity.
My great thanks to everyone involved in this issue and the "Fabric of a Space" exhibition including Alberto Ibarguen, The Knight Foundation, Frances Trombly, Leyden Rodriguez-Casanova, Jonathan Durham, Carolyn Sickles, Lisa Williamson, Nicole Lenzi, Jennifer Williams, Emmy Thelander, Bradford Robotham, Jill Daves, Colette Robbins, Erickson Lassiter, Stacy Gibboni, Jennifer Neff, and Cary Whittier.
More to come, Meaghan
Tags: Journal