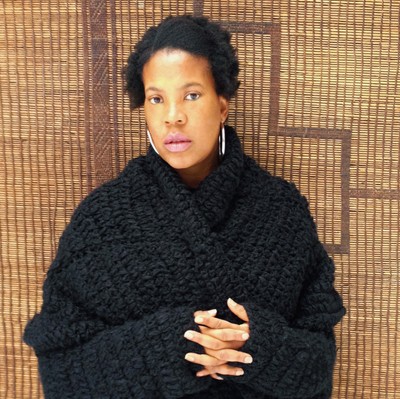 XAVIERA SIMMONS'S body of work spans photography, performance, video, sound, sculpture and installation. She defines her studio practice, which is rooted in an ongoing investigation of experience, memory, abstraction, present and future histories-specifically shifting notions surrounding landscape, character development and formal processes, as cyclical rather than linear. In other words, Simmons is committed equally to the examination of different artistic modes and processes; for example, she may dedicate part of a year to photography, another part to performance, and other parts to installation, video, and sound works-keeping her practice in constant and consistent rotation, shift, and engagement.
Simmons received her BFA from Bard College (2004) after spending two years on a walking pilgrimage retracing the Trans Atlantic Slave Trade with Buddhist Monks. She completed the Whitney Museum's Independent Study Program in Studio Art (2005) while simultaneously completing a two-year actor-training conservatory with The Maggie Flanigan Studio. Simmons has exhibited nationally and internationally where major exhibitions and performances include: The Museum of Modern Art, MoMA PS1, The Studio Museum In Harlem, The Contemporary Arts Museum Houston, The Public Art Fund, The Sculpture Center, The Aldrich Contemporary Art Museum; David Castillo Gallery and The Savannah College Of Art and Design among many others.
Selected upcoming solo and group exhibitions for 2015 include: Accumulations, Light Work Syracuse, Foto, Annin Arts, London, Number 16, Kemper Museum Of Art, Kansas City, Radical Presence, Yerba Buena Center For The Arts, San Francisco, Where Do We Migrate To, Vamlands Museum, Sweden and When The Stars Begin To Fall, ICA Boston. Simmons is the recipient of significant and numerous awards including a 2015 Recipient of a Foundation for Contemporary Arts Award for Visual Art.