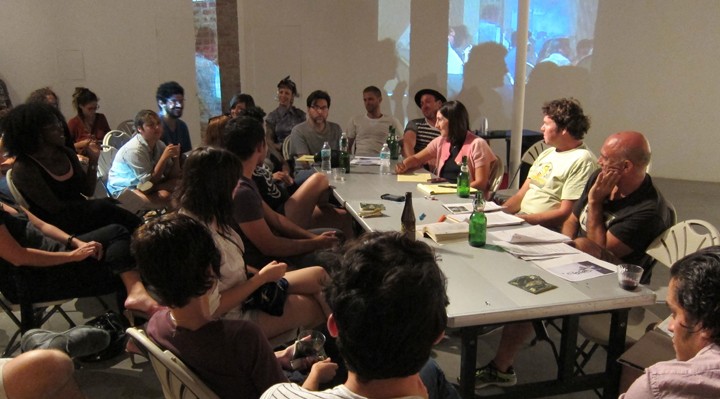 For the past 15 months, I have been engaged in organizing discursive structures, specifically programming and moderating open format discussions on topics in contemporary art. The sessions were fed by my own earnest interest in the subject matter and inclination towards open discussion over the more didactic structure of a lecture or panel. Folding in different voices like cake batter, the arc of the conversation was shaped through integrative moderating and spats of disagreement. In an eight-week series called Miami Curator's Symposia,(I) the first iteration of these talking experiments took place in downtown Miami at the non-profit organization Cannonball (Formerly Legalart). Presenting only the name of the topic in advance, I would often initiate each session by briefly presenting my own research, questions, and presuppositions. In the absence of assigned reading, I asked participants to bring their own research and material–literally books and relevant texts and references. Because of these factors, and also because some topics were original, "Dumb Art" stands out, in particular, more often than not the entire discussion period was spent hacking away at what the topic actually was, and if it was indeed anything at all.
Aided by the weekly consistency of the events, what quickly became an unspoken principle/ideal of the relatively short and lively sessions was an imperative to move swiftly with ideas. Participants were encouraged to describe an artist, practice, exhibition, theory, or concept, agree/disagree with one another, and support with examples, allowing the conversation to contribute to the shape of the topic. The sessions began to reward more antagonistic tendencies and discourage opinion-based comments, in favor of a discourse that flowed with facts. Adhering to a strict time schedule, the frank discussions often raced to the last moment, when I promptly silenced them like a smug judge. And, as was one of my favorite things about being a graduate student in London, everyone was encouraged to continue by descending en masse upon the nearest bar, in our case, an establishment called "The Corner" at the intersection of North Miami Avenue and Eleventh Street. Spilling out onto the sidewalk in the effervescence of deliberate talking, the conversations fractured and deepened, sometimes early into the morning. And perhaps most satisfying to me was how the whole environment created a feeling of anticipation, that through this open vetting, some particle of knowledge would be shared/produced. The sessions also generated heavy sighs, disappointment, frustration, elitism, naïveté, pre-conceived notions, and awkward clashes of experience and perspectives. While easy targets for intellectual dumbing-down, at worst an "entertainment machine celebrating critique-lite,"(II)  the sessions were made sharp and critical in only one way: worthwhile contributions from participants presenting what was at stake or offering relevant information. Each talk was an implicit challenge and at moments, they soared. The best sessions resolved in a universality of terms and ideas, where a gradual group-teaching emerged. I began to think of them as foot-findings where sophisticated ideas could be addressed, but also where those who attended largely came out on the same page. I myself was motivated to learn, not teach.
Several months later, this 'ignorant schoolmaster'(III) style-format transformed into another series of discussions at Locust Projects (which I have been associated with since 2011), known now as the "Locust Roundtables." This time inviting members from the Miami art community and passers-through to generate topics and moderate as they saw fit, these talks began to take on more mutable formats: as performative lectures, incorporating slides, debates, spirit readings, et cetera. In keeping with the mission of the alternative non-profit which hosts them, the topics and formats themselves were experimental. They were ideas that the presenters were working out themselves for the first time, such as Hunter Braithwaite's "LOVE WILL TEAR US APART: DISLOCATION AND CONTEMPORARY INTELLECTUAL LABOR." Yet the keystone of the gatherings, whether intimate and heady or ballooning out into unruly escapades, such as the evening featuring the "Miami Vernacular," remained the imperative for an open format, the challenge to articulate and defend a position. To date, we have completed ten sessions; the next series of five is planned for August and September 2013.(IV)
Other than being a topic dear to my heart, all this is to say that the drive to participate in such discussions and the pervasiveness of conversation platforms in relatively recent contemporary art activities has been of particular interest to me and others in the field for some time now. It is a handful of these discursive platforms/alternative education models which I will sketch, with interest and homage to the work of several contemporary art historians and academics whose work sheds much light on the role of this talking. These sets of ideas, combined with the activities of several artists based in Miami and notable projects and initiatives which have taken place here and in relation to the bottom of the 95 corridor, are what binds the following pages of this journal together.
***
More than just an interesting and self-affirming thing to do, the habit of talking in and among contemporary art contexts is complicated, sliding apart into a few distinct discs that overlap in fascinating and generative ways. It has been argued that the emphasis on dialogue in and around contemporary art is the most significant shift in the last decade or so,(V) distinguishing a generation of artists and related activity in the field. Described as 'new institutionalism,'(VI) art historians such as UK-based Claire Doherty highlight significant increases in how institutions and art events of all kinds are operating as open-ended platforms, and how this necessarily generates dialogue in close relation to programming, or literally as programming. At its core a re-visioning of the role of institutions, this term crystallized around 2006 and has mostly been generated by European cultural sites in curatorial discourses.
Another disc which slides from this dialogue is the educational turn, and indeed, the whole concept of turning–which is to say, trending towards certain kinds of formats and practices, and in this case, art turning to education. Emerging around 2010 and owing to a wide swath of practitioners, London-based art historian and teacher Irit Rogoff is a central figure with a history of pertinent scholarship and participation in related events. The so-called educational turn relates to new institutionalism, yet concentrates more on the ways in which discursive, open-ended programming provided by contemporary art institutions can function as alternative education and research sites. Furthermore, practicing unaccredited education in and among art gatherings with topics and expertise outside of the art world fosters a cross-disciplinary experimental zone where participants can "attend to the production and articulation of truths…" as opposed to re-enforcing objective knowledge.(VII)
Highlighting the centrality and emergence of alternative education structures, the educational turn also contextualizes such artist, curator, and institution-initiated temporary schools, project spaces with class-like programming, temporary initiatives at museums and institutions, artist-directed academies and initiatives of which are amply described,(VIII) and artists working or acting as self-appointed institutions. With this strong emphasis on talking, more often than not the formation of such educational platforms takes precedence over any substantive evaluation of what is being discussed.
In relation to both these aspects is the identification of an art practice, socially and politically motivated (by neo-liberalism and the monetization of education), that is definitively post-medium and post-studio. It is in this environment of art making, long after the introduction of the ready-made and the imperative to learn a set of skills to best reproduce tradition, that the 'deskilling' and 'deschooling' of contemporary practitioners thrives. This set of ideas is presented and elaborated upon by Vivian Sky Rehberg, an art historian and critic based in Paris.(IX) She addresses artists as "generalists," rather than "specialists," in any medium. Rehberg also points to the potential of carrying conversations across various disciplines, and to the development of a 'speculative mode', where it is possible to invent subjects and explore margins and cross-overs in an academic manner, but without the limitations of academic institutions.
Rehberg's idea adds to the discussion regarding the codification of and dialogue around the term 'knowledge production'. While tossed around like a wave, the term is probably best defined by European-based writer/curator Simon Sheikh as a "commodification of knowledge", and further elaborated on by Hal Foster, American art critic and historian, as a "promiscuity of collaborations," pinpointing a shift to "literal space" where the focus is no longer on the production of objects but instead on the production of space where things happen.(X) Simultaneously widely misinterpreted and still in the process of becoming understood, the notion of producing knowledge in contemporary art today is as deeply rooted in both art practice as curatorial practice, and twins with the wider terms of 'educational turn,' and 'new institutionalism,' all of which are seeking/producing some kind of knowledge/truths. For my purposes and to circle back to the Miami Curator's Symposium and "Locust Roundtables," I would like to position the following more in terms of positive aspiration/will and to consider that, as Irit Rogoff ended her essay "Turning": "truth is not a position, it is a drive."(XI)
***
Because Internet radio is streamed on any host page with basic web technology, all online radio is essentially pirate radio, in that it is not regulated. A format beloved in the magic city, pirate radio has a long and rich history in Miami and has become adopted by contemporary art practitioners everywhere possible in recent years.(XII) Such programs take on a professional air of organization, with schedules, archives, streaming and podcasting capabilities. As an enabler of space, place and individual voices, the mobilization of live Internet radio, and event-based radio in particular, is an interesting, unfettered zone of expression and information, creating a new form of which there is no shape. Continuing the dematerialization of the art object, art practices embracing radio today operate as nearly pure information streams, further excused from producing objects as catalysts for ideas or representations. And yet, while as an art practice such actions can be viewed as performative, site-specific, time-specific, situation-specific, as happenings, et cetera, online radio is also just that: online radio. The medium specificity of online radio–a provider of widespread access to audio content, from music, to talk, to sounds, to documentation- plays an important role in the production, dissemination and reception of such projects. A notable project utilizing more of a sound-as-medium…?
As a result of the proximity of working closely within an art community, I am pleased to offer several primary documents and excerpts from a handful of projects, all loosely connected through the electronic transmission of live Internet radio. Moreover, it has been a delight to find and sometimes become co-opted into some of the developments present here. Through a process of learning the connections between projects, it became clear to me that the important part of their linkages had more do with talking than it had to do with the radio, and that it actually had to do more with alternative education than with talking in the modes described above. This lean to education structures on the radio seems a natural fit, an inspiring example being one realized this summer in a large-scale project by Thomas Hirschhorn: "The Gramsci Monument," made possible through the Dia Art Foundation. To touch on this lightly, an aspect of the project entails a live Internet radio station broadcasting from Forest Houses, Bronx, New York. The radio program includes the staples of a daily lecture, a newspaper, and an ambassador's note, among a variety of other programming.
***
MIAMI ON THE RADIO
For the purposes of tracing the lines between noted projects and the exploration of their mutable forms, I will briefly state facts, details of which are elaborated upon in the following transcriptions and excerpts. Given the specific history of analog pirate radio in Miami, broadcasting as an art practice started most clearly with Agustina Woodgate and the formation of the bilingual English/Spanish "Radio Espacio Estacion (REE)" in 2010-2011.(XIII) The first instatement, which took place in October of 2011 at the Elsewhere Museum in Greensboro, North Carolina, was an experiment in site-specific radio programming, in language, and in bilingualism. Henceforth, Woodgate has broadcasted the online station nomadically, though the greatest listening base remains in Miami and Argentina.
The next iteration of "REE" was at Kulturpark, a large-scale collaborative exhibition executed by Woodgate and Miami gallerist Anthony Spinello. Taking place in Planterwald, Treptower, Berlin, from June 28 2012—July 1, 2012, Kulturpark was a multi-disciplinary gathering of projects spanning art, education and cultural spheres based around the activation of an abandoned amusement park. There, Patricia (Patty) Margarita Hernandez collaborated with Woodgate to build an audio exchange platform in the spirit of Miami's unregulated pirate radio culture for "the end/SPRING BREAK," a collaborative project Hernandez co-founded and co-operates with Miami-based artist Domingo Castillo. For this iteration, the radio station was set up at the perimeter of the park, and incorporated both music and conversation. Furthering the development of temporal, event-based radio, the project also served as a record of Kulturpark and a formalized exchange with Miami-based artists and listening audiences.
Woodgate activated "REE" once more in Berlin later that summer, as an integral part of the exhibition "Voicing Responsibility." hosted by the KW Institute for Contemporary Art, July 20–21, 2012. Emphasizing the value of dialogue and listening, the exhibition was composed of eight dialogue tables throughout the galleries, each led by a keynote speaker. The transcriptions of the exchanges were recorded and broadcasted. Recognizing language/communication as a medium came to bear as the conversation fractured from bilingual to trilingual, and the radio event became both site and sound specific. Wynwood has performed "REE" in a number of other venues and also in collaboration with the mostly music online station, Wynwood Radio, at the Art Live Fair, October 2012.
At the tail end of 2012, "Radio Espacio Estacion (REE)" became a platform for internationally-renowned artist Tania Bruguera (Cuba), for the 2011 Grants & Commissions Program of the Miami-based Cisneros Fontanels Art Foundation (CIFO). Woodgate was asked to join forces with CIFO to broadcast a performance by Brugera granted by the commission, which took place at the San Carlos Institute in Key West, Florida, on December 18, 2012, International Migrants Day. Using the radio platform to give a press conference, Tania Bruguera reopened the Partido Revolucionario Cubano, in the same place where Jose Marti wrote his first draft for the foundation of the Partido Revolucionario 1892. The press conference was conducted entirely in Spanish to a handful of witnesses. CIFO subsequently produced a short video documenting the performance and road trip. The piece was enacted on the heels of Bruguera's project, "Immigrant Movement International (IMA)," produced by the Queens Museum of Art and Creative Time. That project had its first instatement in Corona, Queens, in 2011, and is intended to move to other specified locations throughout the world in a five-year durational project. The activities of "IMA" are focused around building a community resource center addressing the needs of immigrants and towards developing a sense of identity for immigrants as a group of unique global citizens with distinct experiences.
The flexibility of "REE" is also evident in the evolution of Hernandez's subsequent development of "the end/SPRING BREAK Radio," originally conceived for Kulturpark. This new facet of "the end/SPRING BREAK" continued to produce event-based radio in a nomadic capacity throughout 2012 and early 2013. During this time period, Hernandez independently formulated a new online radio program, "Electric Lunch"  commissionied by the Miami Downtown Development Authority.(XIV) Broadcasting ensued in a commercially zoned downtown storefront at 176 NE First Street, Miami, from February–April 2013, with regular streaming at that site, as well as from a myriad of other sites. Amongst variable forms, "Electric Lunch" continues as a forum for discussions and performances. The proclivity towards variable programming included a collaboration taking the form of an information platform for the emerging big data co-working academy Particlehaus, formed in large part by Olivia Ramos. The collaboration, still in its nascent stages, has thus far taken the form of an interview on the impetus behind founding an alternative university and the position of alternative education in general. A continuation of the series is planned to explore further the relationships between media, data, and education. As radio-in-residence at the prospective physical site of the university, "Electric Lunch" would capture and archive Particlehaus programming: events, lectures, classes, and discussions taking place at the school's classrooms and café, and curate sections of news. Presently, Hernandez is continuing "Electric Lunch" at the Fort Lauderdale Museum of Art, as well as nomadically.
I Miami Curator's Symposia Program, Cannonball (formerly LegalArt): 1035 North Miami Avenue, Miami, FL 33136
5/15/12: Failure/Ruin
5/22/12: Social Practice/Criticality in Miami & Everywhere
5/29/12: Conviviality/Excess/Ritualism
6/5/12: Situations in Contemporary Art
6/12/12: Public Art and Interventions: What is at Stake Everywhere and in Miami
6/19/13: Institutional Models for the Production of New Work
6/26/12: Dumb Art
II Rogoff, Irit. "Turning," Curating and the Educational Turn, Paul O'Neil and Mick Wilson (Eds.) London: Open Editions, 2010. 40-41. Print.
III Rancière, Jacques. The Ignorant Schoolmaster: Five Lessons in Intellectual Emancipation, Stanford, CA: Stanford UP, 1991. Print.
IV See Appendix A: Locust Roundtables
V An adapted statement as stated by Irit Rogoff in an article from 2008 as "the most significant shift within the art world over the past decade" Paul O'Neil and Mick Wilson (Eds.)"Turning" Irit Rogoff, Curating and the Educational Turn, Open Editions: London, 2010, 43. As noted by Vivian Sky Rehberg in her lecture: "Deschooling / Deskilling," (presented by Witte de With) Thursday, October 18, 2012, Rotterdam.
VI Doherty, Claire. New Institutionalism and the Exhibition as Situation, First published in Protections Reader, Graz: Kunsthaus Graz, 2006. "New institutionalism is the buzzword of current European curatorial discourse. A term poached from social science, it classifies effectively a field of curatorial practice, institutional reform and critical debate concerned with the transformation of art institutions from within. New institutionalism is characterised by the rhetoric of the temporary—transient encounters, states of flux and open-endedness. It embraces a dominant strand of contemporary art practice—namely that which employs dialogue and participation to produce event or process-based works rather than objects for passive consumption. New institutionalism responds to (some might even say assimilates) the working methods of artistic practice and furthermore, artist-run initiatives, whilst maintaining a belief in the gallery, museum or arts centre (and by association their buildings) as a necessary locus of (or platform for) art."
VII Rogoff, 46.
VIII Rogoff, 35.
IX Sky Rehberg, Vivian. "Deschooling / Deskilling," Public lecture, Witte de With Center for Contemporary Art, Rotterdam, Netherlands, October 18, 2012.
X Foster, Hal. "Chat Rooms," Participation, London: Whitechapel, 2006. Print.
XI Rogoff, 46. This statement is problematic as explored and challenged by Rogoff because it assumes that truth is singularly defined, i.e., truth as knowledge and knowledge as truth.
XII See my article "Miami on the Radio: Patricia Margarita Hernandez's Electric Lunch" Artslant, May 7, 2013, artslant.com/mia/articles/show/34915>. Adding to the non-conclusive list of significant contemporary art radio programming is Los Angeles based KCHUNG, kchungradio.org, and Brett Bloom of Temporary Services' description of projects by the artist Brennan McGaffey, temporaryservices.org/something.html
XIV Downtown Miami Arts & Culture Guide, March–June 2013: "Downtown Miami is at its peak of foot traffic from the hours of noon-3pm. During the upcoming months, artist Patricia Margarita Hernandez will continue to instigate cultural exchange through her latest project, "Electric Lunch." This third installment in a series of work will feature site/project specific performances manifesting as online radio broadcasts. Visit Electric Lunch and participate on the radio show or listen live at http://www.electric-lunch.com"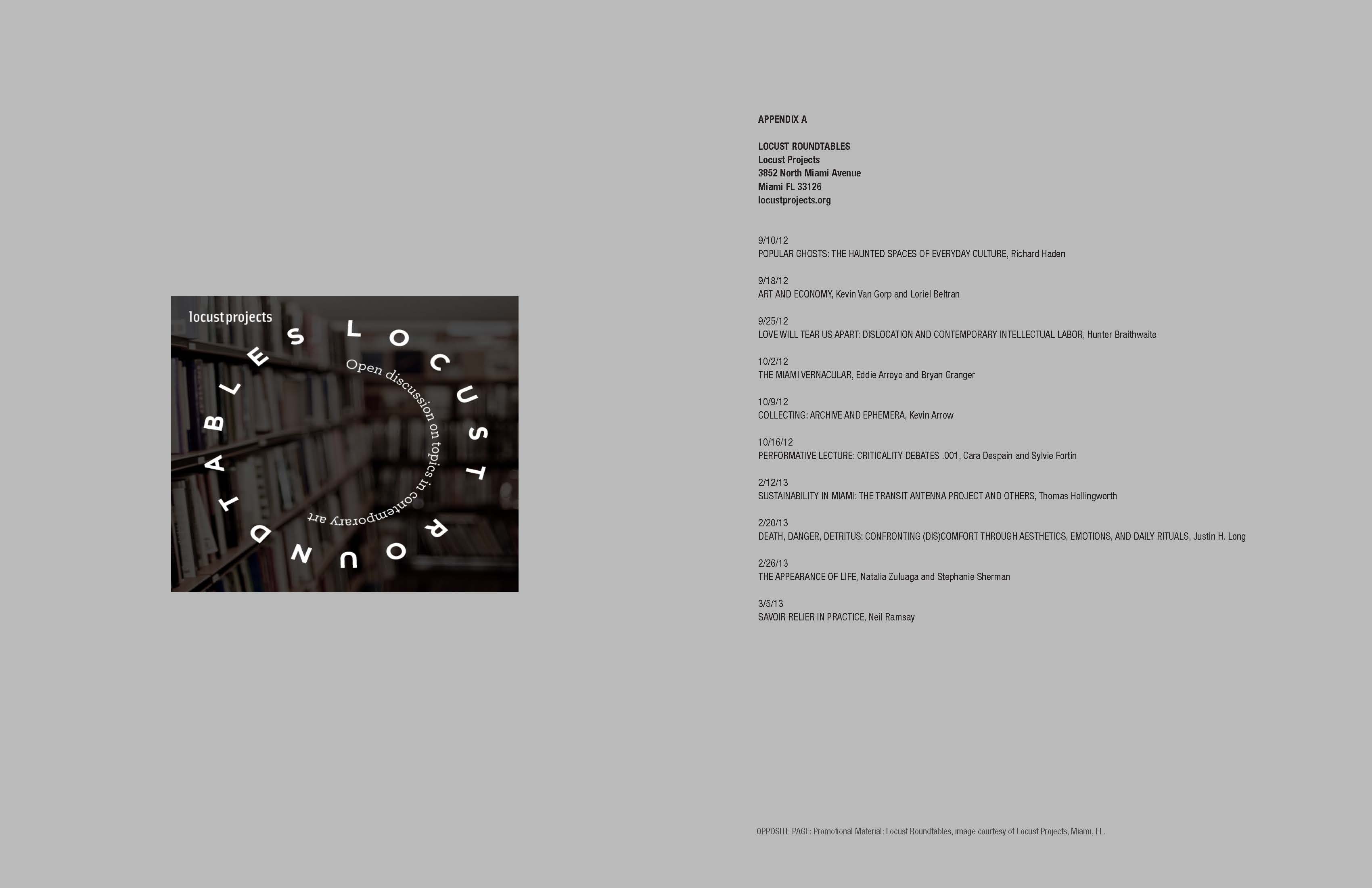 Tags:
Journal