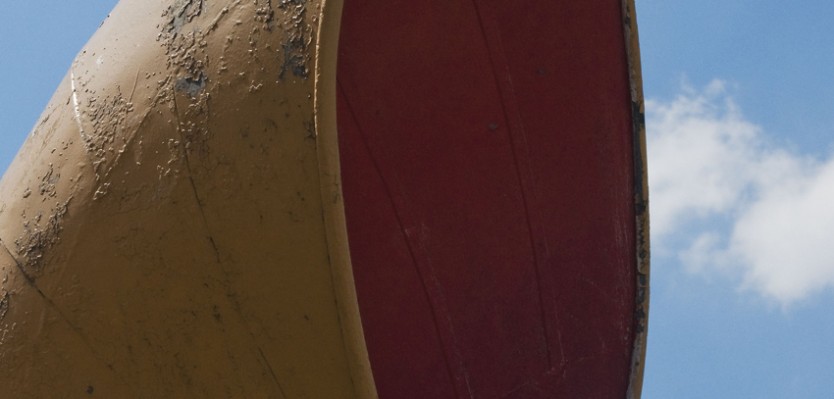 Pooja Kakar: What do you have in mind for "DiA" and how is it inspired by the LILAC?
Naomi Clark: I found it very interesting and romantic to think about a boat that goes out to service lighthouses, like mobile island. I also responded to the many built-in loops and hoops that a boat contains to function; I think they are for ropes. So I wanted to use the idea to build something on the boat like an additional service center within this service center. That said, I want to use some of the existing appendages to build a colorful, abstract, tipi-like structure. I want the tipi to pop out in color and form from the the LILAC.
PK: How are you planning on utilizing the unique space on the LILAC to showcase your work/create an experience for the viewer?
NC: I want bright warm colors and geometric shapes to stand out from the ocean-like palette and organic shapes of the boat. I also want to work with the existing hardware that is built into the boat and the flat narrow service of the deck to build something high and long and waterproof.
PK: Given that a lot of your work has been shown in outdoor installations, how will the environment come into play with your project for DiA?
NC: I love that the work will be set off by the water in the background. I think working in this way, the environment is always part of the work. The documentation and the photographs serve as final compositions that include the work and the environment.
PK: Could you explain your process—from the inception of an idea to its execution in an exhibit, in greater detail?
NC: At Fort Makers we have many different projects going on at once. When we are working on a new project it will be informed by all the other installations and objects that we are working on the moment. Usually when we are doing a site-specific installation we will go see the space and then think of materials that would work to build some sort of structure. We also have a lot of brainstorming and discussion about the form that each project could take. I would say that conversation is very important in our process. Everybody adds to the idea and the form emerges from this work.
PK: Can you explain what Fort Makers is and the mission of the organization? How does the collaborative process work?
NC: Fort Makers is a project-based artist collaborative that creates useful art objects as well as large-scale installations. The process is very dynamic and fluid. There is a lot of conversation, examination of related projects, and a lot of inspiration taken from experimentation and action that happens at the studio. Ideas form from joint experience and conversation.
PK: You have described your artwork as a reconstructive process, a way of using a traditionally two-dimensional medium in a three-dimensional way, perhaps you elaborate on what lead you to this process and why?
NC: I have always had an interest in sewing and textiles as well as painting. Painting, to me, always seemed like an extension of fabric because, well, it is. It moves like fabric and can take 3D form very easily when it covers something or is stretched. I also find it very comforting to know that if something does not work one way, I can re-form the object and have it function in another way. The deconstruction and reconstruction is a way to free myself from attachment to the material piece and the object. I want the work to be present in the moment.  I think it is a way to change and work with perspective.
PK: What projects are you currently working on?
NC: We are getting ready for our first solo gallery show, which will take place in July. It will be a large-scale, multi-faceted project in which I will paint fabric in the gallery and then we will all map, draw and choose strategic locations around Richmond, VA where we will set up various installations. We are also gearing up for our stage set for MoMA PS1's Warm Up concert in August and the DUMBO Arts Festival in September. We  have an ongoing installation at Pier 17 entitled "Free Space" that is open to the public from Tuesday to Sunday 11am-7pm until Labor Day.
Tags:
Journal