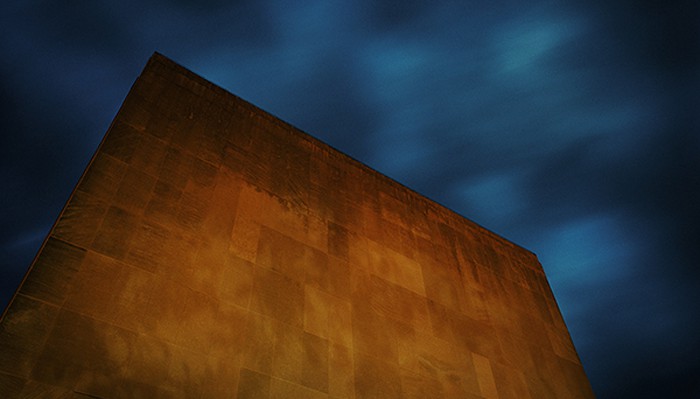 With this series I am transforming ordinary contemporary buildings into sites of power and mystery. Often, the most suitable structures include empty office buildings, parking garages, shopping malls and civic centers. Despite their everyday nature and common architecture, for me these buildings elicit visions of ancient monuments such as mastabas and the Egyptian pyramids, which were created to memorialize kings. I location scout during the day, searching for buildings based on surface, shape and size. Light, non-descript and relatively uniform surfaces are ideal, as they will easily reflect different types of illumination. I am also drawn to basic geometric shapes and exaggerated scale. At twilight I work as quickly as possible, photographing from different approaches and angles while analyzing the color and strength of available light sources.
It is important that these structures lack a distinctive identity because this process is not about each building's character or purpose, but how it can be altered with light and composition. The transformed structures and resulting imagery are fascinating yet unsettling to me. I am enthralled when the mix of natural and artificial light creates fleeting scenarios; however, the lack of access and physical immensity of these buildings contribute to an aura of secrecy. The structures seem impenetrable, compelling me to consider the nature of power and what happens behind closed doors.
Hailing from Portsmouth, Virginia, Christine Carr received her MFA from the Tyler School of Art, her BFA from the Corcoran College of Art and Design and her AAS from the Tidewater Community College Visual Arts Center. She is a two-time recipient of the Virginia Museum of Fine Arts Fellowship. Her work is included in the 5th edition of Exploring Color Photography, the 3rd edition of Photographic Possibilities and the 2nd edition of Light and Lens, all by Robert Hirsch. She has exhibited in solo and group shows in the eastern United States and in Germany. Much of her work explores the mood derived from spatial, light, and color relationships in the industrial and urban landscape. Carr has participated in residencies at the Kimmel Harding Nelson Center for the Arts and at the Prairie Center of the Arts. She is currently teaching photography at Hollins University in Roanoke, Virginia.
Artist website: christinecarr.com
Tags:
Journal