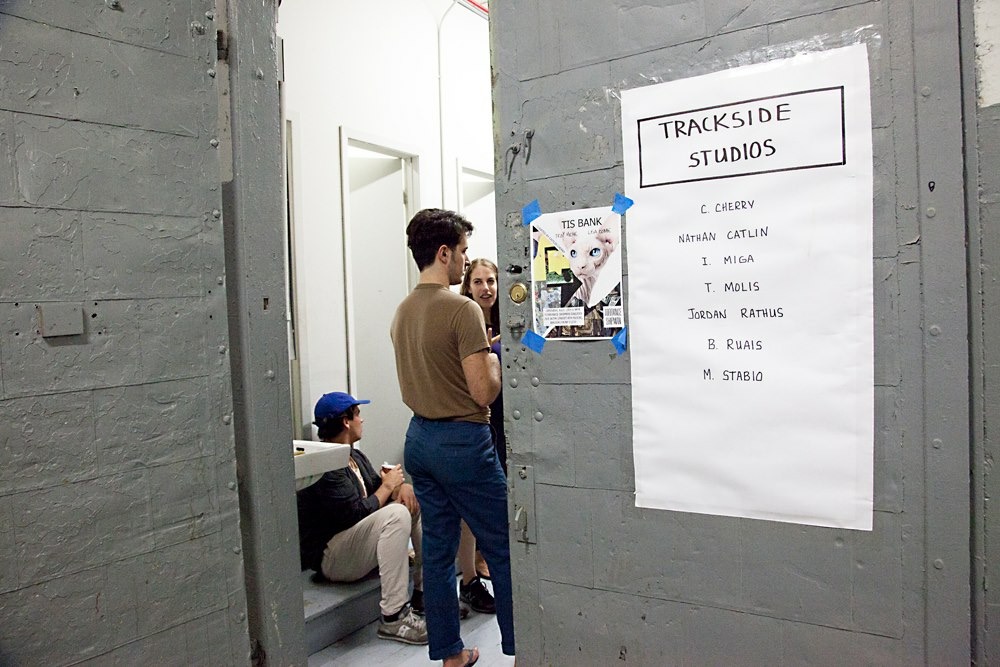 Studio Visit and Conversation at TRACKSIDE Studios
Trackside Studios, 219 36th Street, 4th floor, Sunset Park, Brooklyn, New York
Thursday, August 27, 6-10pm
$7 suggested donation
Email info@site95.org for further details.
Participating artists: Nathan Catlin, Matthew Fischer, Alexandra Lerman, Miryam Prodanovic, Jordan Rathus, Brie Ruais, Maria Stabio, Elena Soterakis
And Lea Cetera at 253 36th Street, 6th floor, Brooklyn, New York
Nathan Catlin (b.1984) is from California and lives and works in Brooklyn, NY.  He received his MFA from Columbia University and BFA from San Francisco Art Institute.  He mainly works with narrative using drawing, painting, and printmaking in order to explore morality, cause and effect, and the human psyche.  His work has been exhibited nationally and internationally including New York City, Los Angeles, Berlin, and Bejing.  He currently manages the printshop at the Leroy Neiman Center for Print Studies at Columbia University where he also acts as the current master printer and adjunct professor of art.  Catlin is currently in a group show up at Davidson Contemporary in Chelsea (http://www.davidsoncontemporary.com) up until Sep 3rd.
Matthew Fischer lives and works in New York.  He has exhibited at Jack Tilton Gallery, Jack Hanley Gallery, Junior Projects and 247365 in New York and Fjord and Bridgette Mayer Gallery in Philadelphia. He has been an artist in residence at The Edward F. Albee Foundation (2013/2015) in Montauk, NY and The Lighthouse Works on Fishers Island, NY in 2012.  In 2011 he received an MFA from Columbia University. Fischer currently teaches studio art and art history at the 92Y in Manhattan and the Central Queens Y in Forest Hills, NY.
Alexandra Lerman proposes clay as a discursive medium. Her ink circulation drawings and "memory negatives" refer to corporeal gestures, the body located within institutional and natural environments. She uses copyrighted and patented systems to explore the complexities of contemporary body language and issues of intellectual property through sculpture, drawing and performance. Lerman's individual and collaborative projects have been shown at the Drawing Center, SculptureCenter, Tina Kim gallery, Where, Storefront for Art and Architecture, Anthology Film Archives, Austrian Cultural Forum, Artists Space, Queens Museum, New Museum in New York and MUSAC in Spain. Alexandra took part in LMCC Workspace Program in New York and Banff Centre's "01 The Retreat: A Position of DOCUMENTA (13)" in Alberta, Canada. She holds an MFA from Columbia University, 2012 and a BFA from the Cooper Union School of Art, 2004.
Miryam Prodanovic was born in Texas to a father and mother from disparate lands.  She studied music, dance, art, anthropology, and once pursued mastery in printmaking.  Troubled by the nature of change and consequence in a world that we all share, she is inclined to exercise balance through a language of abstract lines. The visual shapes that occur in this process are derivatives of the tree branch or mountainous rocky places — expressions of growth and movement.  She is looking to resolve interactions between parts whether by marking ink on paper, paint on canvas, harmonies in sound, or life.
Jordan Rathus (b. 1983 in Princeton, New Jersey) recontextualizes storytelling formats, such as narrative film and reality television, to humorously and critically examine our collective contributions to pop culture. Rathus earned her BFA in Film and Television Production from New York University in 2005. In 2012, she completed a Master of Fine Arts in Visual Arts (New Genres) at Columbia University, New York and was the MFA Artist in Residence at Ox-Bow, Saugatuck, MI. She is a recipient of the Brooks Fellowship Award from Anderson Ranch, Snowmass Village, CO and the Tony Hawkins Award from New York University, New York. Solo and group exhibitions and performances have been held at venues such as The Jewish Museum, New York, NY; The Hudson Valley Center for Contemporary Art, Peekskill, NY; Art Institute of Malmo, Malmo, Sweden; Upfor Gallery, Portland, OR, The LILAC (with Site95), New York, NY; and Adams and Ollman Gallery, Portland, OR. Rathus lives and works in Brooklyn, NY and is a professor in Media at Mason Gross School of the Arts at Rutgers University in New Brunswick, NJ.
Brie Ruais (b. 1982, Southern California) received her MFA from Columbia University in 2011. Working primarily with clay, Ruais makes large-scale ceramic floor and wall pieces that covet their own self-sufficiency. Often beginning with a mass of clay that equals her body weight, the scripted actions employed result in forms that speak to the movement of bodies. Her work has been exhibited at Nicole Klagsbrun, New York; Mesler/Feuer, New York, Marc Selwyn Fine Arts, Los Angeles; Lefebrve & Fils Gallery, Paris; Fused Space, San Francisco; Cooper Cole, Toronto; Halsey McKay, East Hampton; Xavier Hufkens, Brussels; The Horticultural Society, New York; Salon 94, New York; and The Abrons Arts Center, New York. Her work has been discussed in The New York Times, ArtNews, Modern Painters, Artforum, The New Yorker, Bomb, Artsy, TimeOut, and Architectural Digest.  Ruais is the recipient of The Socrates EAF Fellowship, The Shandaken Project Residency, the Anderson Ranch Ceramics Residency, and the Abrons Arts Center Residency. Ruais's work will be included in the upcoming exhibition "Crafted: Objects in Flux" at the MFA Boston in August 2015.
Elena Soterakis is a Brooklyn-based artist whose work explores the conflict between economic progress and environmental preservation, and raises the question of whether this conflict can ever be resolved.
The driving force in the creation of "Ecocide", Soterakis' most recent body of work is the interplay between traditional oil painting techniques and collage. Ecocide is defined as – "destruction of the natural environment, especially when willfully done". This series addresses how our society is disconnected from nature, and how we have evolved in a way that has put us in a position where our way of life is at odds with the planet.
Soterakis received her MFA in painting from the New York Academy of Art, where she was a Merit Scholar. She received her BFA in illustration from the School of Visual Arts. In recent years, Soterakis received a fellowship from the Constance Saltonstall Foundation for the Arts. Her work has been published in Artist Portfolio Magazine and has been exhibited in a variety of venues, including, Flowers Gallery, The Islip Museum, Sotheby's New York, the NPR/WNYC Jerome L. Greene Space, Baroque College's Mishkin Gallery, and Arti et Amicitiae in Amsterdam.
Soterakis was born and raised in the suburbs of Long Island where the conflict between suburban monoculture and the natural landscape became a formative influence in her work and continues to be to this day.
Maria Stabio (b. 1985 San Francisco) is a first generation Filipino-American artist and curator. Her current work addresses feelings of loneliness and isolation through the use of comedic text combined with the painted image.
She graduated with a BFA in Painting from Boston University and an MFA in Visual Arts from Columbia University. In 2012, she was a recipient of the Artist in Residence Fellowship at Virginia Commonwealth University in Qatar, serving as artist in residence and adjunct faculty for one academic year in Doha, Qatar.
She is a co-founder of Trackside Studios and Torrance Shipman Gallery in Brooklyn, New York. She currently lives and works in New York. For more information, visit
Lea Cetera produces temporal installations that examine the mediation of technology and the alienation of the human body. Through recent installations that include filmed performances, where projections of the "ghosted" human body wash over sculptural elements, the artist attempts to create an alienating/disorienting illusory effect that reflects an increasing loss of the corporeal gesture in the every day, the infinite attempt at calibrating the body to technology, as well as the entrapment of the human psyche within it; manipulating and playing with memory, space and time.
Emerging from a collaborative background in theater and filmmaking, Cetera has performed and shown work in the US and internationally at venues such as The Drawing Center, Art in General, Sculpture Center, The Jewish Museum, Disjecta Contemporary Art Center, Southard Reid, Pilar Corrias, Simone Subal, High Desert Test Sites, Poetry Project at St. Marks Church on the Bowery, Anthology Film Archives and participated in Portugal Arte 2010 and the New Wight Biennial 2012. She holds an MFA from Columbia University, 2012 and a BFA from the Cooper Union School of Art, 2005. She lives and works in New York City.