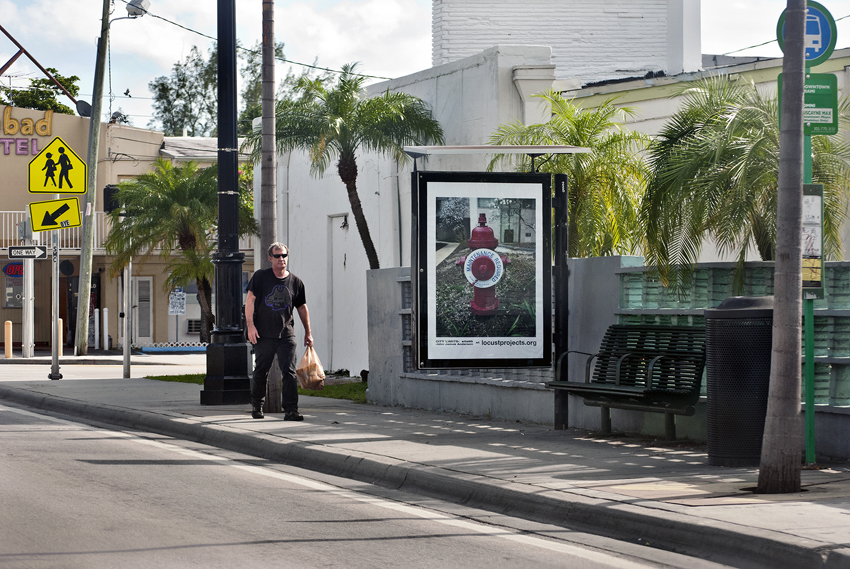 organized by Meaghan Kent
site95 @ Locust Projects, Miami, Florida
3852 North Miami Avenue, Miami, Florida, 33127
Opening reception: Saturday, September 8, 7-10pm
Conversation with the curator and artist: 6pm
Project Room exhibition on view through October 17, 2012
Bus Shelter Project on view September 2012
Gallery Hours: Wednesday – Saturday, 12-5pm or by appointment
Watch the work, DC Murders 2006-2010
For the months of September and October, Locust Projects is partnering with the roving curatorial initiative site95, who will present the first installment of their multi-city series City Limits in the Project Room. The exhibition consists of three projects by the Washington, DC based artist John James Anderson. Organized by curator and site95 founder Meaghan Kent, the series focuses on the influence of the urban environment on contemporary practices. Considering and questioning site-specifity, artists in each exhibition present ideas that are progressive, reactionary, and often poetic with regards to their own urban environment.
Anderson's projects engage current cultural and political issues that are endemic to, but resonate far beyond, Washington, DC. For Maintenance Required, the artist mapped broken fire hydrants throughout the city, spurred into action by hydrant failures during the 2007 Eastern Market and Georgetown Library Fires. For Hours of Labor, the artist investigates the current politics of economics and immigration by hiring day laborers to create objects with him. The installation juxtaposes the tools and objects with documentation from his conversations and experiences with the laborers. JOB Creation Project is an effort to inspire ideas for job security. For this performative action, Anderson disseminates literature in the form of buttons and quote cards that will be on view in the gallery. Further documentation of the performance will be featured in the site95 October Journal.
In conjunction with the Project Room exhibition, Anderson's work will be featured on over 30 bus shelters around Miami in September 2012 for the Bus Shelter Project, part of Locust Projects' public art initiative Out of the Box, which commissions artists to create new work for public spaces in Miami.
ABOUT THE ARTIST Originally from Iowa, John James Anderson has lived in Washington DC for the last eight years, completing an MFA in painting at American University in 2005. His work has been exhibited at Corcoran Gallery of Art and Washington Project for the Arts in Washington D.C.; Arlington Arts Center in Virginia; and Adah Rose Gallery in Maryland. Anderson was a fellow for the DC Commission on the Arts and Humanities, Washington DC, in 2010.
ABOUT SITE95 site95 is an alternative nonprofit organization established to present exhibitions of emerging and established artists in temporary urban locations. Drawing upon available space in major cities, site95 will present over five projects per year, creating a platform for artists and curators to present innovative ideas in different contexts and allow viewers to experience new work not native to their location. Exhibitions will offer openings, educational talks and tours, screenings, and performances. site95 also features the online monthly Journal with contributions by writers, curators, and artists. http://www.site95.org/meaghankent_wp/
ABOUT LOCUST PROJECTS 2013 marks the 15th anniversary of Locust Projects, a not-for-profit exhibition space founded by three Miami artists in order to provide contemporary visual artists the freedom to experiment with new ideas and methods without the limitations of conventional exhibition spaces. Artists are encouraged to create site-specific installations as an extension of their representative work, and Locust Projects offers them a vibrant Miami experience to develop their ideas. Locust Projects is committed to offering an approachable and inviting venue for the Miami and international art community to experience the work and meet the artists.
Locust Projects' exhibitions and programming are made possible with the support from: The Andy Warhol Foundation for the Visual Arts; Cowles Charitable Trust; Foundation for Contemporary Arts; Galt & Skye Mikesell; Hannibal Cox Jr. Foundation; John S. and James L. Knight Foundation; Miami-Dade County Department of Cultural Affairs, the Cultural Affairs Council, the Mayor, and the Miami-Dade County Board of County Commissioners; Miami Sports and Exhibition Authority. Special thanks Grolsch, Mandarine Napoleon, Societe Perrier, Workshop Collective. Design: Venture Architects.
15 Year Anniversary Project Room Sponsors: Estelle and Paul Berg, Joan Blackman and Anders Hoegh, James Cohan, H. Charles Coleman, Marianne and John Devine, Susan Ervin, Dawn Fine, Dr. Kira and Mr. Neil Flanzraich, Elisabeth G. Frank, Debra and Barry Frank, Jorge A. Garcia, Debbie and Andy Hirschl, Arlene and Aly Kahn, Jeff Krinsky, Rochelle and Steve Lanster, Vivian and Kenneth Pfeiffer, Faye and Jeffrey Roth, Debra and Dennis Scholl, Dale Chapman Webb, Debi and Jeff Wechsler
Exhibition Reviews