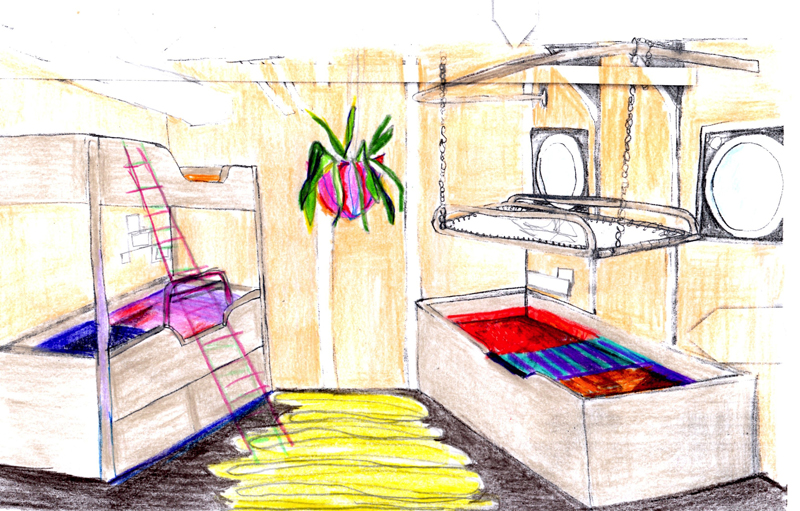 DiA on the LILAC, Pier 25, West Street at North Moore Street, TriBeCa, New York
July 11 – August 24, 2013
Saturday, July 27, Family Afternoon Activity Day 1-3pm, Talk and Tour 4-5pm
On Saturday, July 27, SITE95 will host a free family afternoon activity event and tour in conjunction with their current exhibition, "Dead in August (DiA) on the LILAC."
"DiA" is an exhibition and event series that uses available space in New York to create in-depth projects highlighting New York-based artists. "DiA" takes advantage of a seemingly down time in New York City and activates it with performances, screenings and exhibitions. In its third year, the exhibition and events of "DiA" will take place on the LILAC, located on Pier 25 in TriBeCa, New York. The LILAC is a 1933 steam-powered lighthouse tender that was decommissioned in 1972 and is now a museum ship. The exhibition on the LILAC will comprise site-specific installations by Peter Brock, Maureen Cavanaugh, Naomi Clark/Fort Makers, Myeongsoo Kim, Jordan Rathus, Colette Robbins, Chad Stayrook, Molly Surno, Naama Tsabar, and Byron Westbrook with scheduled events throughout the course of the exhibition. More information on site95.org.
Children's activities will be held from 1-3pm, and will include an I-spy tour of the ship and hands-on crafts that relate to the "DiA" artists' projects in the exhibition. Beginning at 4pm, director Meaghan Kent and participating "DiA" artists will hold a talk and tour of the exhibition on the LILAC.
Events are free of change. Please RSVP to Kaitlin Henderson at office@site95.org
"DiA" has been organized by Meaghan Kent with Maureen Cavanaugh, Tyler Gorky, Kaitlin Henderson, Pooja Kakar, and Molly Surno. Our great thanks to Mary Habstritt, Museum Director and President of the LILAC Preservation Project.
The mission of the non-profit Lilac Preservation Project is to restore the U.S. Lighthouse Tender Lilac as a unique vehicle for maritime education and community activities, both underway and pier-side. Founded in 2003, the Lilac Preservation Project is an all-volunteer organization.  Its Board of Trustees is made up of mariners, historians and professionals dedicated to bringing life to America's last steam-powered lighthouse tender. More information on the LILAC is located at lilacpreservationproject.org.
SITE95 is an alternative non-profit organization established to present exhibitions for emerging and established artists in temporary urban locations. Drawing upon available space in major cities, SITE95 will present over five projects per year, each extending up to two months. The impermanent sites create a platform for artists and curators to present innovative ideas in different contexts and allow viewers to experience new work not native to their location. Exhibitions will offer openings, educational talks and tours, screenings, and performances. SITE95 also features the online monthly Journal with contributions by writers, curators, and artists. site95.org