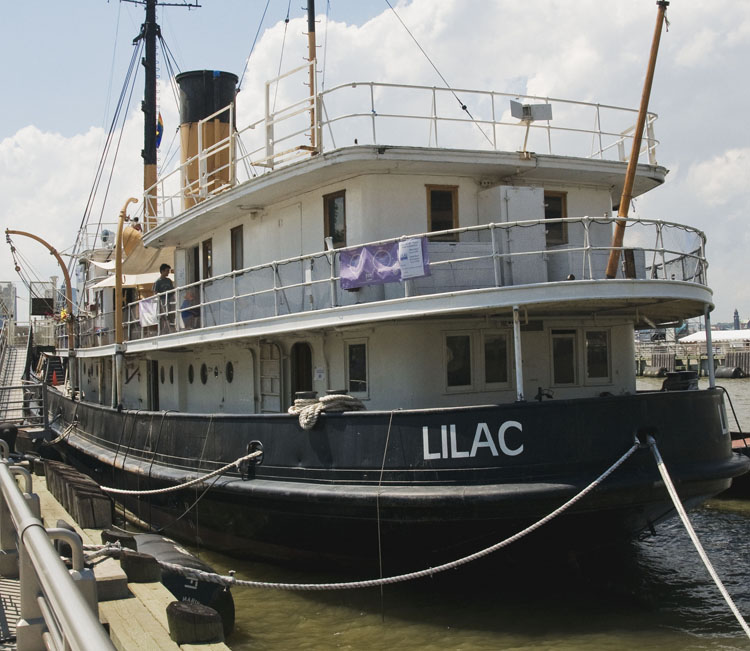 FOR IMMEDIATE RELEASE
"Dead in August on the LILAC" July 11 – August 24, 2013
LILAC, Pier 25, West Street at North Moore Street, TriBeCa, New York
July 11: Opening and Performances by Byron Westbrook and Chad Stayrook 6-11pm
July 18: A night of Video Art Projects curated by Molly Surno 6-9pm
July 27: Family Afternoon and Talk and Tour with participating artists and SITE95 Director Meaghan Kent, 1-5pm
View the full images on Facebook here.
SITE95 is thrilled to present the third incarnation of "Dead in August (DIA)." "DiA" is an exhibition and event series that uses available space in New York to create in-depth projects highlighting New York-based artists. This year, the exhibition and events of "DiA" will take place on the LILAC, a 1933 steam powered lighthouse tender, located on Pier 25 in TriBeCa, New York, and at Independent Curators International (ICI), in TriBeCA, New York.
The exhibition on the LILAC will comprise site-specific installations by Peter Brock, Maureen Cavanaugh, Naomi Clark / Fort Makers, Myeongsoo Kim, Jordan Rathus, Colette Robbins, Chad Stayrook, Molly Surno, Naama Tsabar, and Byron Westbrook. The LILAC is a 1933 steam-powered lighthouse tender that was decommissioned in 1972 and is now a museum ship. Throughout the vessel, individual rooms will feature solo presentations by each artist. Each project is thoughtful to the rich history and unique environment of the LILAC.
The opening on July 11 will present two performance events: "SHUFFLE," by Byron Westbrook and "A Siren Song (in three parts)" by Chad Stayrook. "SHUFFLE" is a participatory work that invites members of the audience to explore the spaces of the LILAC with 20 handheld speakers, each of which plays a separate tone of a musical chord. Audience members will individually define their own compositional arc and harmonic progression through their movement around the ship and proximity to other participants. At 9pm, Stayrook will present "A Siren Song (in three parts)" with Ellena Phillips, Rowan, and Unstoppable Death Machines. "A Siren Song (in three parts)" pays homage to the history of the LILAC as a lighthouse tender and its duty to maintain navigational aides meant to keep other ships and their crews safe.
On July 18, SITE95 will present a screening and performance night curated by Molly Surno. The screening will include works by: Amanda Alfieri, Peter Fankhauser, Molly Lowe, Micki Pellerano, Joshua Zucker-Pluda, Jordan Rathus, MM Serra, and Scott Thrift. Surno is a New York-based artist and founder and director of Cinema 16, a performance series that pairs contemporary musicians with experimental films.
On July 27, SITE95 will hold a family afternoon event on the LILAC with children's activities from 1-3pm, followed at 4pm by a talk and tour with participating artists and SITE95 director Meaghan Kent.
In conjunction with the exhibition, on August 1 at Independent Curators International (ICI), Meaghan Kent will moderate "New York Practice," a panel discussion with Noah Becker (artist, founding editor of Whitehot Magazine and producer of the documentary, "New York is Now"), and artists Sue de Beer and Ryan McNamara. The conversation will look at each individual's practice through the lens of the panel's experiences of living in New York City.
SITE95 Journals will accompany the exhibition and events of "DiA." Journal 02_05 will feature interviews with artists participating in the LILAC exhibition as well as a unique series of photographs of the LILAC by Cary Whittier. Journal 02_06 will include studio conversations with Noah Becker, Sue de Beer, Ryan McNamara, and Doug Ashford. Journals will be available online and in print at all accompanying events.
"DiA" has been organized by Meaghan Kent with Maureen Cavanaugh, Tyler Gorky, Kati Henderson, Pooja Kakar, and Molly Surno. Our great thanks to Mary Habstritt, Museum Director and President of the LILAC Preservation Project, and Kate Fowle, Renaud Proch, Maria del Carmen Carrión, and Misa Jeffereis of Independent Curators International (ICI). Further details on "DiA," including biographies on each of the artists, can be found at site95.org. More information on the LILAC is located at lilacpreservationproject.org. Additional information on Independent Curators International is available at curatorsintl.org. Please contact info@site95.org with any questions.