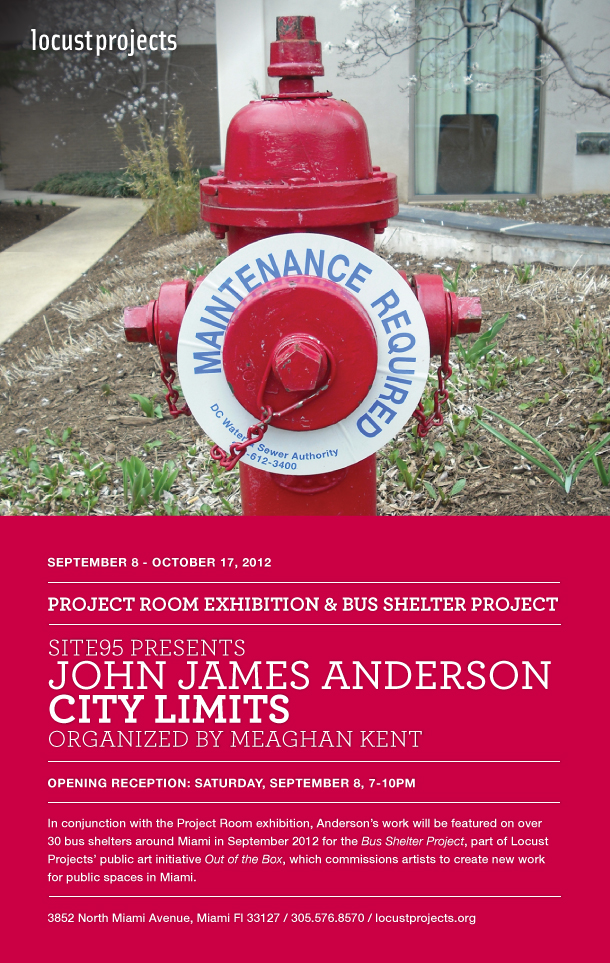 site95 @ Locust Projects, Miami, Florida
3852 North Miami Avenue, Miami, Florida, 33127
Conversation with the curator and artist: 6pm
For the months of September and October, Locust Projects is partnering with the roving curatorial initiative site95, who will present the first installment of their multi-city series City Limits in the Project Room. The exhibition consists of three projects by the Washington, DC based artist John James Anderson. Organized by curator and site95 founder Meaghan Kent, the series focuses on the influence of the urban environment on contemporary practices. Considering and questioning site-specifity, artists in each exhibition present ideas that are progressive, reactionary, and often poetic with regards to their own urban environment.
Anderson's projects engage current cultural and political issues that are endemic to, but resonate far beyond, Washington, DC. For Maintenance Required, the artist mapped broken fire hydrants throughout the city, spurred into action by hydrant failures during the 2007 Eastern Market and Georgetown Library Fires. For Hours of Labor, the artist investigates the current politics of economics and immigration by hiring day laborers to create objects with him. The installation juxtaposes the tools and objects with documentation from his conversations and experiences with the laborers. JOB Creation Project is an effort to inspire ideas for job security. For this performative action, Anderson disseminates literature in the form of buttons and quote cards that will be on view in the gallery. Further documentation of the performance will be featured in the site95 October Journal.
In conjunction with the Project Room exhibition, Anderson's work will be featured on over 30 bus shelters around Miami in September 2012 for the Bus Shelter Project, part of Locust Projects' public art initiative Out of the Box, which commissions artists to create new work for public spaces in Miami.