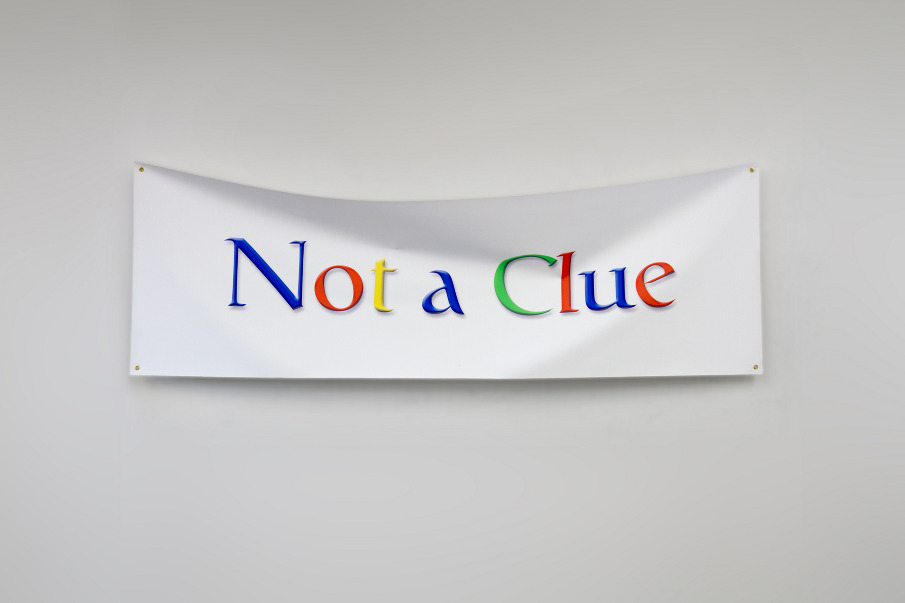 [wowslider id="7″]
P2V: Antoine Lefebvre and P. Scott Cunningham
SITE95 and Dimensions Variable
April 11 – May 25, 2013
Dimensions Variable, 100 NE 11th Street, Miami, Florida, 33132
Opening: Thursday, April 11, 2013, 7 – 10pm
Tour the exhibition through Art is About
Dimensions Variable and SITE95 are pleased to present "P2V," an exhibition of new work by P. Scott
Cunningham and Antoine Lefebvre. "P2V" derives from "Physical-to-Virtual," a technical term describing the transfer of a physical server's data to a virtual machine. In context to this exhibition, physical and virtual elements are interchangeable and endless. Both artists investigate the variations and forms of creating work in space utilizing text, custom made and everyday objects.
This is the third in a tripart series of exhibitions between SITE95 and Dimensions Variable. The first exhibition, "Trombly Rodriguez: The Fabric of a Space," was held at the Abrons Arts Center October 12 – November 18, 2012. The second exhibition, "Cut Outs: Jenny Brillhart and Carolyn Salas," was held at Dimensions Variable January 26 – March 21, 2013.
Antoine Lefebvre
French born and now Brooklyn based artist Antoine Lefebvre examines the impact of globalization in our ever-transforming culture. His work explores how our perception of the world has been drastically transformed by our daily use of digital tools, and how permeable virtual and digital worlds have become. Motivated by his experience of living in many different locations, Lefebvre is interested in creating a "place" that belongs to both real and simulated realms.
Lefebvre utilizes 3D software as well as machine and hand manufactured objects in his daily practice to create work that is both familiar and idiosyncratic in nature. In the computer-generated animation "Bouncing Ball", a vinyl bag pinned on the wall holds a flat screen monitor with an animation of a ball indefinitely bouncing. The project was developed from the artist's interest in 3D software and the way it describes physics using gravity, friction, and elasticity at a fundamental level. With this project, Lefebvre questions the possibilities to connect to places and spaces in an environment increasingly becoming digitalized and intangible. Similarly, "Not a Clue" is a sculptural text comprised of CNC-cut Styrofoam letters mimicking the "Google" logo's font and color. The tongue-in-cheek reference to the popular search engine reads as an equally endless solution to the supposed definitive system.
Antoine Lefebvre was born in France in 1979 and studied city planning and cinema before moving to New York in 2007. Lefebvre received his Masters in Fine Art at Parsons the New School for Design in 2009. His work has been shown in several New York institutions including: Eye Level Gallery, Envoy Gallery, and The Kitchen. Artist residencies include: The Fountainhead Residency, The Sculpture Space, NY, The Vermont Studio Center, and Artists Unlimited, Germany. His first solo show was held at the NrzP Gallery in Bielefeld, Germany in 2012.
P. Scott Cunningham
"Sometimes he thought he was about to speak, but the silence continued."
Harold Bloom
And then the dreams about books began
[Vinyl on Wall]
+
Edition of FiveHypergraphs: 1-5
[Typewriter on paper]
For every one book that is published, how many more are dreamt of? Every unwritten book, once given a name, is released into the ether, and the sight or sound of that name is a hyperlink to nowhere. More and more, I think of every book as a series of broken hyperlinks. More and more I am satisfied with the link to a book, the dream of a book, and for every one book that is dreamt of, how many more go unremembered upon waking? Every unremembered book, once unremembered, is released into the ether, and no sight or sound will bring it back. I've been collecting the hyperlinks for these books, and I've pulled my favorite quotes from their pages.
-P. Scott Cunningham, 2013
P. Scott Cunningham is the author of "Chapbook of Poems for Morton Feldman" (Floating Wolf Quarterly, 2011). His work has been exhibited at Bas Fisher Invitational, Design/Miami, Miami Art Museum, NDS Shop, Miami-Dade Public Library, and New Art Dealer's Alliance Fair. His poetry has appeared in Harvard Review, The Awl, McSweeney's Internet Tendency, Maggie, La Otra, and elsewhere. As the Founder/Director of University of Wynwood, he has created multiple projects that explore the relationship between literature and contemporary society. He lives in Miami, FL with Christina and Otto.
Dimensions Variable is an artist-run exhibition space committed to advancing artistic discourse in Miami. DV's main focus is to create an exchange of ideas between Miami and the international community. Through collaborations with artists, galleries and institutions from around the world, DV hopes to support dynamic projects that engage the community and provide an opportunity to initiate a dialogue elsewhere. DV's program consists of exhibitions, discussions, lectures, and special projects. Dimensions Variable is run by
Adler Guerrier, Leyden Rodriguez-Casanova and Frances Trombly.
SITE95 is an alternative non-profit organization established to present exhibitions for emerging and established artists in temporary urban locations. Drawing upon available space in major cities, SITE95 will present over five projects per year, each extending up to two months. The impermanent sites create a platform for artists and curators to present innovative ideas in different contexts and allow viewers to experience new work not native to their location. Exhibitions will offer openings, educational talks and tours, screenings, and performances. SITE95 also features the online Journal with contributions by writers, curators, and artists.
SITE95 and Dimensions Variable exhibition series are made possible through the generous support of The Fountainhead Residency, the Knight Foundation, and the Knight Arts Challenge Grant awarded to Dimensions Variable.